Bonhams Zoute Sale 2021
10th October 2021 @ 2:00 pm

-

6:00 pm
The ZOUTE SALE is a prestigious international auction of fine and rare collector's motor cars to be held on the beach in front of the central Albert Square in Knokke-Le-Zoute. In 2019, no less than 15 million euros worth of exclusive cars were sold at the ZOUTE SALE by Bonhams.
This important auction features remarkable historic vehicles. Many of them from major domestic and international collections.
Despite the ongoing concerns surrounding the Covid- 19 pandemic, Bonhams have applied their normal enthusiasm in organising the traditional Zoute Sale on
Sunday 10th October.


However, because of the restrictions that have to be put in place to safeguard customers and staff against contracting the virus, you are asked to contact Bonhams in order to register and view any cars in the sale. You are advised to do this as early as possible in order to get the best possible service and maximise the enjoyment of the experience. See the Preview and Appointments times below.
Preview & Appointments
07 October 2021 08.00 – 14:00 CEST
08 October 2021 08:00 – 14:00 CESTZou 
09 October 2021 08.00 – 14.00 CEST
10 October 2021 08.00 – 12.00 CEST
Some of the cars in the sale –
One of only 30 production EB110 SS examples built
1994 BUGATTI EB110 SUPER SPORT
Chassis no. ZA9BB02EORCD39011
€ 

2,000,000 – 

€ 

2,500,000
£ 

1,700,000 – 

£ 

2,100,000
US$ 

2,300,000 – 

US$ 

2,900,000
One family owner from new, matching numbers & colours
1969 FERRARI 365 GTC
Coachwork by Pininfarina Chassis no. 12209
Engine no. 12209
€ 

600,000 – 

€ 

700,000
£ 

510,000 – 

£ 

600,000
US$ 

700,000 – 

US$ 

820,000
Classiche certified, concours restored, Garage Francorchamps delivery new
1961 FERRARI 250 GTE
Chassis no. 2353 Engine no. 2353
€ 

400,000 – 

€ 

500,000
£ 

340,000 – 

£ 

430,000
US$ 

470,000 – 

US$ 

580,000
1962 ASTON MARTIN DB4 SERIES 3 SALOON
Chassis no. DB4/780/L
€ 

280,000 – 

€ 

340,000
£ 

240,000 – 

£ 

290,000
US$ 

330,000 – 

US$ 

400,000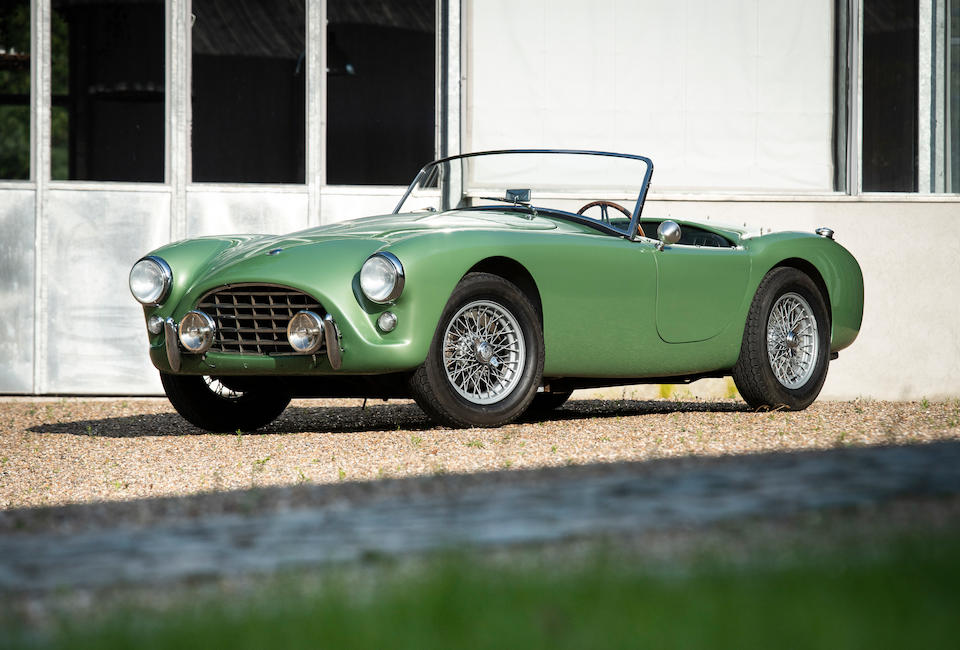 1957 AC BRISTOL ROADSTER
Chassis no. BEX269 Engine no. 100D597
€ 

280,000 – 

€ 

320,000
£ 

240,000 – 

£ 

270,000
US$ 

330,000 – 

US$ 

370,000
1961 ASTON MARTIN DB4 SERIES 2 SALOON
Chassis no. DB4/606/L
€ 

250,000 – 

€ 

300,000
£ 

210,000 – 

£ 

260,000
US$ 

290,000 – 

US$ 

350,000
1955 JAGUAR XK 140
Coachwork by Ghia Chassis no. 810827DN
€ 

200,000 – 

€ 

300,000
£ 

170,000 – 

£ 

260,000
US$ 

230,000 – 

US$ 

350,000
Multiple race winner with Nicola Larini in the 1990 Italian Superturismo Championship
1990 ALFA ROMEO 75 TURBO EVOLUZIONE IMSA
Chassis no. CBM005
€ 

160,000 – 

€ 

220,000
£ 

140,000 – 

£ 

190,000
US$ 

190,000 – 

US$ 

260,000
Desirable manual gearbox
1978 ASTON MARTIN V8 VOLANTE
Chassis no. V8C0L15040
Engine no. V540/5040/LFM
€ 

150,000 – 

€ 

200,000
£ 

130,000 – 

£ 

170,000
US$ 

180,000 – 

US$ 

230,000
Land Rover Classic restored
1951 LAND ROVER SERIES I 'REBORN'
Chassis no. 16133267
€ 

110,000 – 

€ 

150,000
£ 

94,000 – 

£ 

130,000
US$ 

130,000 – 

US$ 

180,000
1970 PORSCHE 911 2.2T TARGA
Chassis no. 9110111785
€ 

90,000 – 

€ 

130,000
£ 

77,000 – 

£ 

110,000
US$ 

110,000 – 

US$ 

150,000
1954 JAGUAR XK120 SE ROADSTER
Chassis no. S676289
€ 

90,000 – 

€ 

130,000
£ 

77,000 – 

£ 

110,000
US$ 

110,000 – 

US$ 

150,000
Related Events