'Museum On the Move' at the British Motor Museum
April 21 @ 4:30 pm

-

8:30 pm
After the success of the first 'Museum on the Move', the popular members-only annual event returns on Friday 21 April. 'Museum on the Move' offers members of the British Motor Museum the unforgettable opportunity to ride in a selection of carefully chosen prestigious cars from the collection, such as a 1971 Rolls Royce Silver Shadow, a 1989 Reliant Scimitar SS1 and even the first Morris Minor.
Members will get the chance to meet and chat with specialists from the Collections Team, as well as fellow members passionate about cars and British automotive history. Opening at 4.30 pm, the evening will start with drinks, delicious homemade cakes and cookies served in the Museum Welcome Gallery. Members will then go outside to see the stunning line-up of cars and enjoy the sights, sounds and smells as the engines are fired up and ready for the main event.
Cars being prepared for this very special evening include a 1902 Albion Dog Cart, 1907 Rover 20hp, 1933 Riley Kestrel, 1948 Morris Minor Number One, 1955 Gas Turbine Mule, 1964 Morris Mini Cooper S (AJB as driven by Timo Makinen), 1971 Rolls Royce Silver Shadow, 1978 Triumph Lynx prototype, 1989 Reliant Scimitar SS1 and a 1993 Vauxhall Lotus Carlton.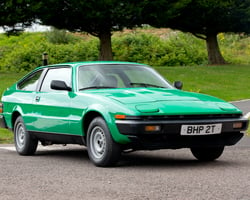 Not a Member of the British Motor Museum? You can soon rectify that by applying for membership here –
APPLY FOR BRITISH MOTOR MUSEUM MEMBERSHIP
Clicking on this button will take you to a British Motor Museum webpage.
Access to 'Museum on the Move' is just one of many Membership benefits. Membership provides vital support to the Museum and its charity, helping it conserve, protect, and share the fabulous collections of over 400 cars and millions of artefacts. Members also gain free entry to the Museum for 12 months (including any event days), discounts in the Museum shop and café, exclusive opportunities to preview new exhibitions and much more.
 Museum on the Move tickets are available free of charge to Premium Members with Members access charged at £25 per adult, £17.50 per child (where part of family Membership).  All tickets must be pre-booked and can be booked up until Monday 17 April.
If you are a MEMBER you can book your tickets here –
BOOK TICKETS FOR 'MUSEUM ON THE MOVE'
Clicking on this button will take you to a British Motor Museum webpage.
Note: –
The purpose of this webpage is to provide information on a British Motor Museum member's event. It refers to material that is in the Public Domain. Carsceneinternational.com has no commercial relationship with the organisers or sponsors featured.
Please note that CSI does not organise events and is not responsible for any of the activities referred to above. All enquiries relating to the event should be addressed to the organisers whose website is given below.
© carsceneinternational.com