RM Sotheby's – The Elkhart Collection
23rd October 2020

-

25th October 2020
LIVE IN-PERSON WITH REMOTE BIDDING
OVER 240 CARS AND WIDE SELECTION OF COLLECTIBLES OFFERED ALMOST ENTIRELY WITHOUT RESERVE
The result of decades of judicious and targeted collecting, The Elkhart Collection – Offered Almost Entirely Without Reserve comprises the most exceptional marques and models in automotive history. The focus is at once broad but highly selective from sporting British and Italian cars to microcars, classics, supercars, modern sports cars, '50s convertibles and coachbuilt icons.
In a meticulously cleaned, thoroughly organized facility outside Elkhart, IN, there sits a veritable encyclopedia of coachbuilding. Names like Bertone and Pinin Farina offer more than a signature at the end of a car's title. An association with a designer can add more to a car's value than any other detail. Each of these skilled artisans imprinted signature styling cues and accessories onto otherwise ordinary chassis, transforming each of these creations into elevated works of automotive art. Collaborations between coachbuilders, chassis makers, and the enterprising producers that conceive them are frequently international, allowing for fantasy-level combinations of chassis, powerplants, and styling representing the best in the world, bar none.
RM Sotheby's is proud to present this diverse collection of coachbuilt cars (as well as an extensive array of non-coachbuilt examples) live and in-person at our upcoming auction in Elkhart, with remote bidding also available. With so many storied artisans represented, an overall appreciation of the forms chosen by each firm can begin to appear when browsing the available lots. This is part one of a far-from-comprehensive list of some of our favorites. In keeping with the idea of these custom-built items as art, we have annotated this list with the relative rarity of each example: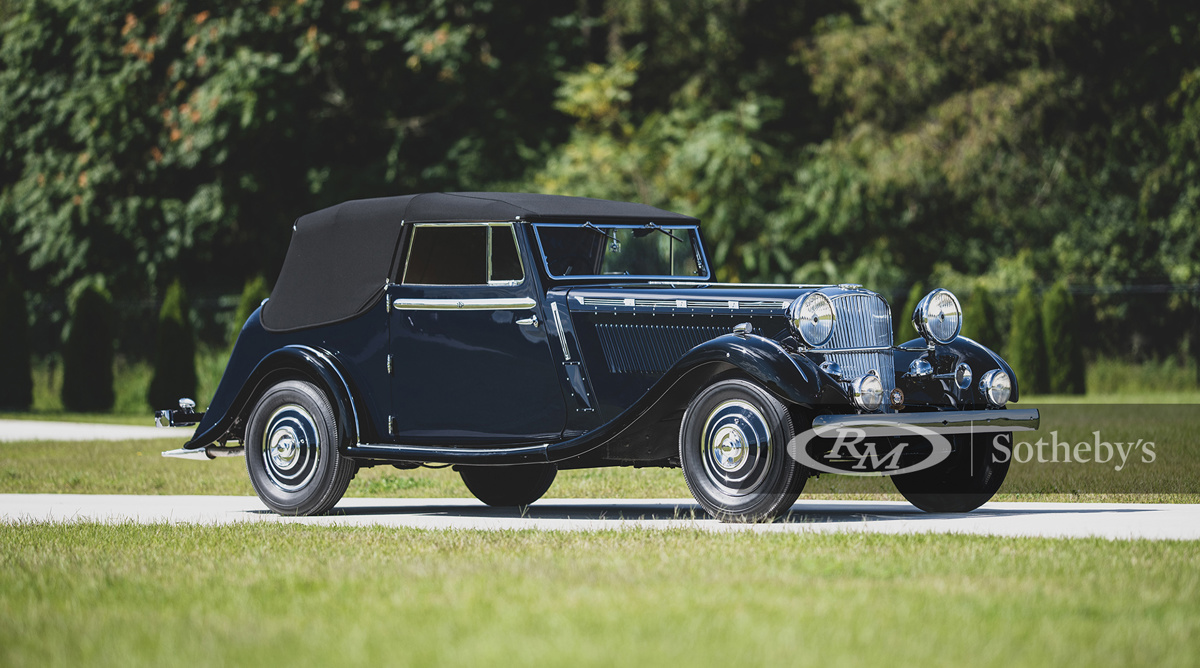 1937 Brough Superior 3 1/2 -Litre 'Dual Purpose' Drophead Coupe by Atcherley
Estimate: $75,000 – $100,000
One out of approximately 85 built
A familiar name for aficionados of fine vintage motorcycles, this coachbuilt car was more than just an aberration in the history of George Brough. Built on a Hudson Terraplane chassis and with Hudson powerplant, the handsome, 'Dual Purpose' Brough was a superbly equipped, supremely durable example of how the company famous for building the "Rolls-Royce of motorcycles" also dabbled in four-wheeled transportation, building about 85 cars over the entire lifespan of his company.
W.C. Atcherley was a Birmingham, U.K.-based firm that has become known as "The Lost Coachbuilder'" after its namesake founder destroyed all records when the company folded. And yet, Atcherley coachwork appeared on chassis from Rolls-Royce, Daimler, and Invicta, indicating how well-respected they were in-period. Though sources differ on the total number of Brough Superior cars constructed, it was doubtlessly Atcherley's largest commission, and the fact it was based on a Hudson Terraplane chassis doesn't begin to describe the level of bespoke detailing that went into the completed car.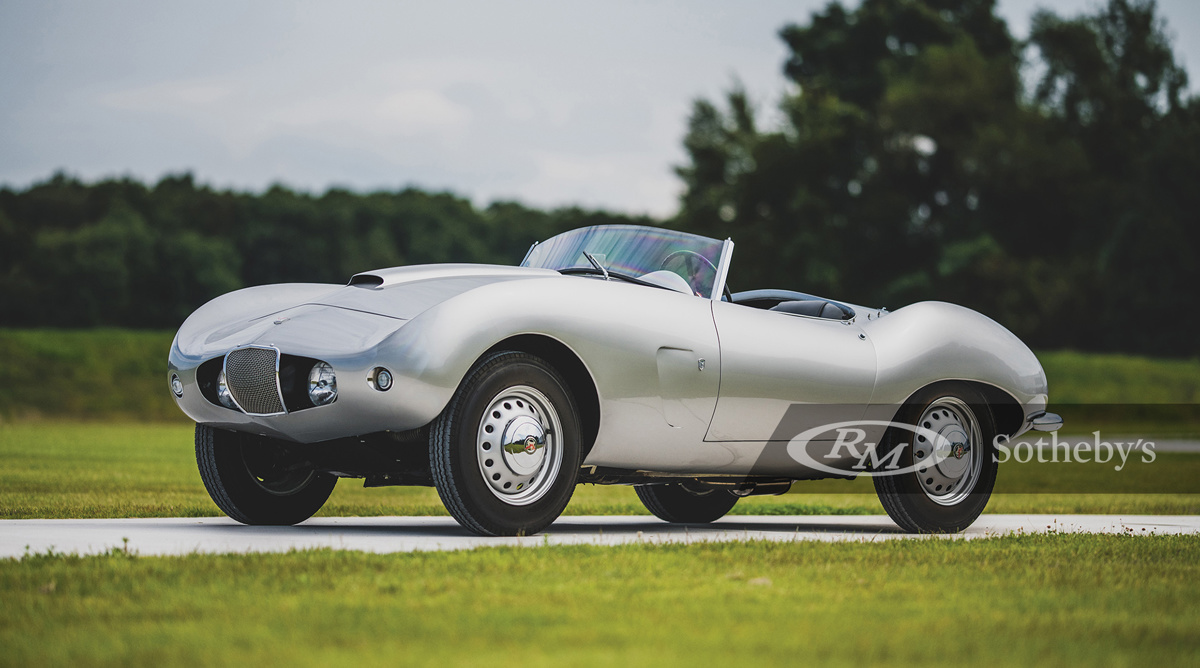 1956 Arnolt-Bristol Deluxe Roadster by Bertone
Estimate: $325,000 – $375,000
One of approximately 130 sold
The mid-1950s provided fertile ground for interesting international collaborations, built on handshake deals that sound increasingly impossible in our modern era. The impetus behind this sharp, Italian-American-British sports car occurred at the Turin Motor Show in 1952, when Chicago-based importer and entrepreneur Stanley H. "Wacky" Arnolt met Nuccio Bertone and struck a deal for Carrozeria Bertone to mint a new line of custom sports cars based on U.K.-built chassis. The first collaboration produced the Arnolt-MG, a handsome coupe whose styling is credited to both Nuccio and Giovanni Bertone as well as veteran designer Giovanni Michelotti.
After a brief (and unsuccessful) attempt to market coachbuilt Arnolt-Aston cars, Arnolt selected a small aviation and automobile company called Bristol Cars to provide 200 chassis for his next venture. Though Michelotti was still at Bertone when the Arnolt-Bristol was designed, the reigns were passed to young Franco Scaglione, who at that point was busy conducting advanced studies on aerodynamics for Alfa-Romeo. Scaglione's series of Alfa-Romeo "BAT" concept cars spooled out over 1953-1955, and echoes of the "twin peak" tail fins and flared wheel arches from the three concepts were incorporated immediately into Bertone's production cars, none more elegantly than the Arnolt-Bristol. An absolute icon.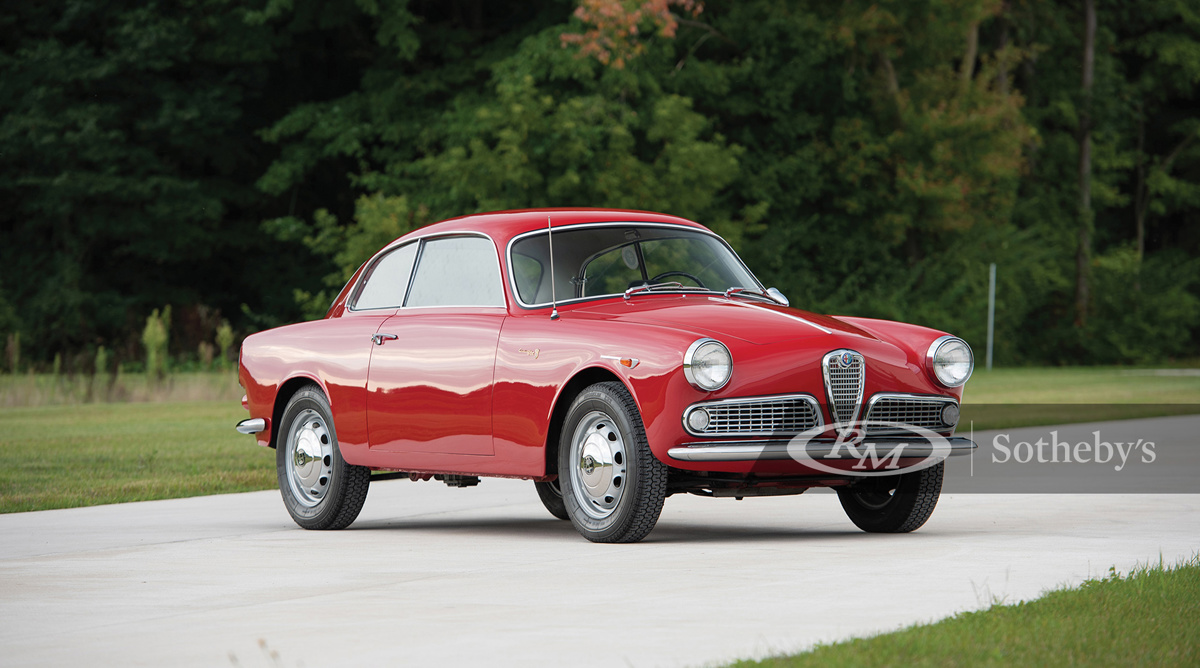 1961 Alfa Romeo Giulietta Sprint by Bertone
Estimate: $70,000 – $90,000
One of 24,084 Guilietta Sprint examples built in 750-Series and 101-Series
By the early 1960s, styling cues from Alfa Romeo's forward-looking BAT series filtered down to the production versions of the Italian brand's volume models, including the Giulietta, which by February 1961 had totaled 100,001 examples assembled. For the second Giulietta generation (known to Alfa fans as the 101-Series), Alfa Romeo offered more coachbuilt options than ever, with Zagato, Pinin Farina, and Bertone all contributing designs. Scaglione and the team at Bertone even offered two different options, the Giulietta Sprint and Sprint Speciale (sometimes referred to as the Giulietta SS). The two designs appear related but not—fraternal rather than identical twins—with the Speciale reflecting many of the advanced aerodynamic cues from BAT 9, and the "regular" Sprint adopting a classic, 1960s-style, slab-sided design. Obviously, there exists a lively and ever-evolving debate over which design looks better in a modern light, but the fact that both variants have such ardent defenders shows the power of Scaglione's styling, even a half-century later.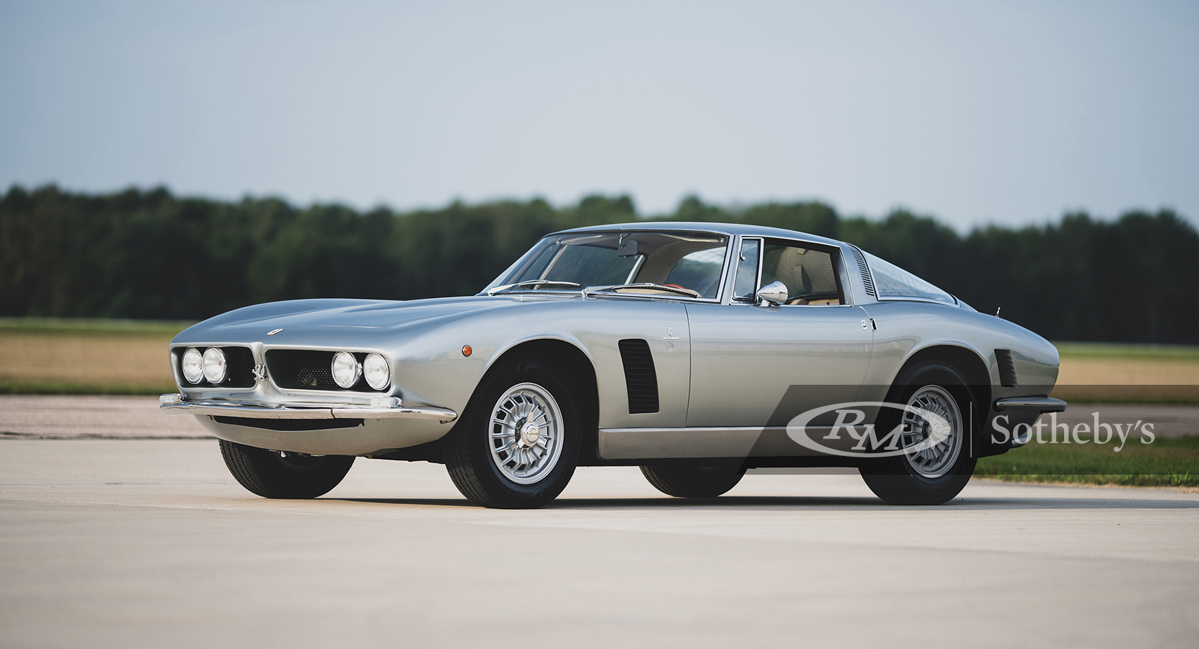 1968 Iso Grifo GL Series I by Bertone
Estimate: $325,000 – $375,000
One out of 413 Iso Grifos total
About a decade after "Wacky" Arnolt's attempt at crafting an international sports car, the time was ripe and the market sufficiently ready for another offering. Though the names of the major players and powerplants had changed, by the mid-1960s, Bertone was still the firm to contract if one wanted strong, independent Italian design. Former Ferrari chief engineer Giotto Bizzarrini certainly valued his independence, and after breaking off from the legendary company as part of the "Great Walkout" in 1961, wasted no time in first starting his own venture and collaborating with fellow Italian makers Lamborghini and Iso Autoveicoli. Famous for the Isetta bubble car, Iso was not necessarily renowned for performance, but Bizzarrini was about to change that. Powered by the legendary 5.4L "small block" V-8 from Chevrolet, and with styling courtesy of another legend, Giorgetto Giugiaro, the Iso Grifo proved that if a car is styled and engineered to be absolutely world-class, the badge doesn't matter as much as the effort (and ability) involved.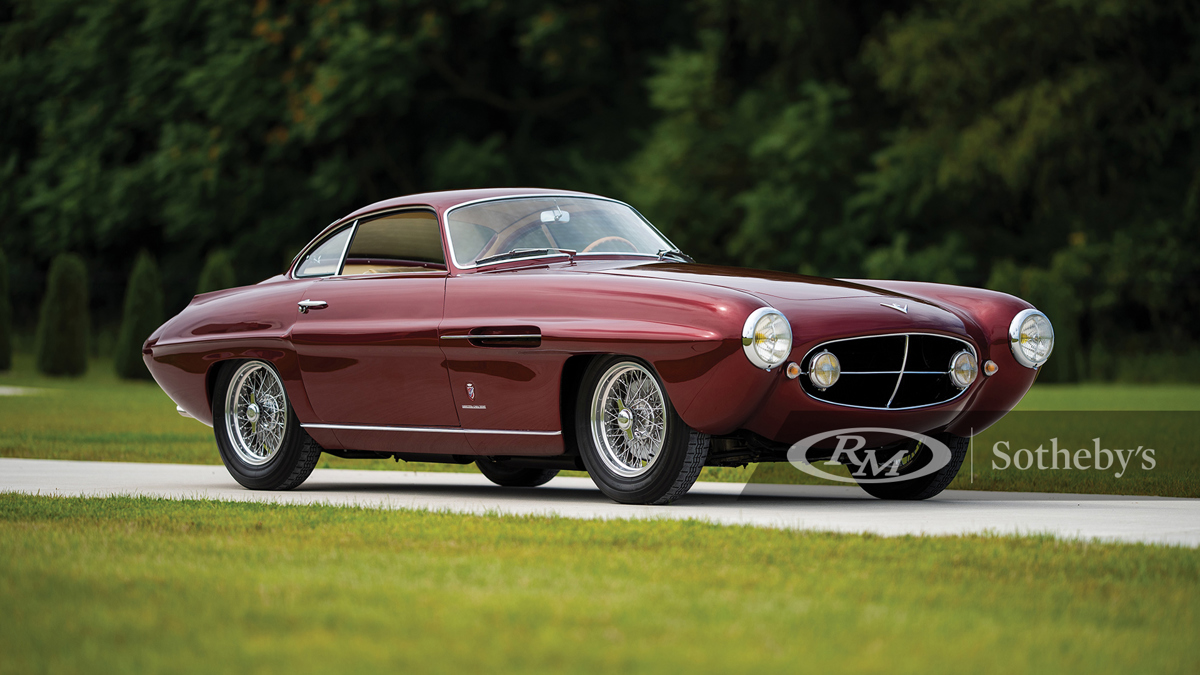 1953 Fiat 8V Supersonic by Ghia
Estimate: $1,750,000 – $2,200,000
One of only 15 Ghia Supersonics made on 8V chassis
Our only example from well-known coachbuilder Ghia, this Supersonic-shaped Fiat 8V may look familiar to fans of Giovanni Savonuzzi, the quiet genius who made waves in the world of Italian coachbuilding (as well as the rest of the planet) in 1947 with the release of the Cisitalia 202 CMM Aerodynamica Savonuzzi, a groundbreaking race car design. The 202 CMM was assembled by Pinin Farina; its "envelope-style" design adapted to the Cisitalia 202 coupe that many critics consider to be the first sports car. If the group of Italian stylists we've discussed before was akin to Michelangelo, Donatello, Raphael, and Leonardo, then Savonuzzi would be like Splinter—the wise teacher, whose time in the wind tunnels as Cisitalia's technical director influenced the understanding of sports car aerodynamics across the entire industry. Ironically, some of this consummate Italian designer's main influences were jet airplanes from America, and this 'Supersonic' Fiat is arguably his best effort at capturing the high-flying spirit of the age. Who says flying cars don't exist?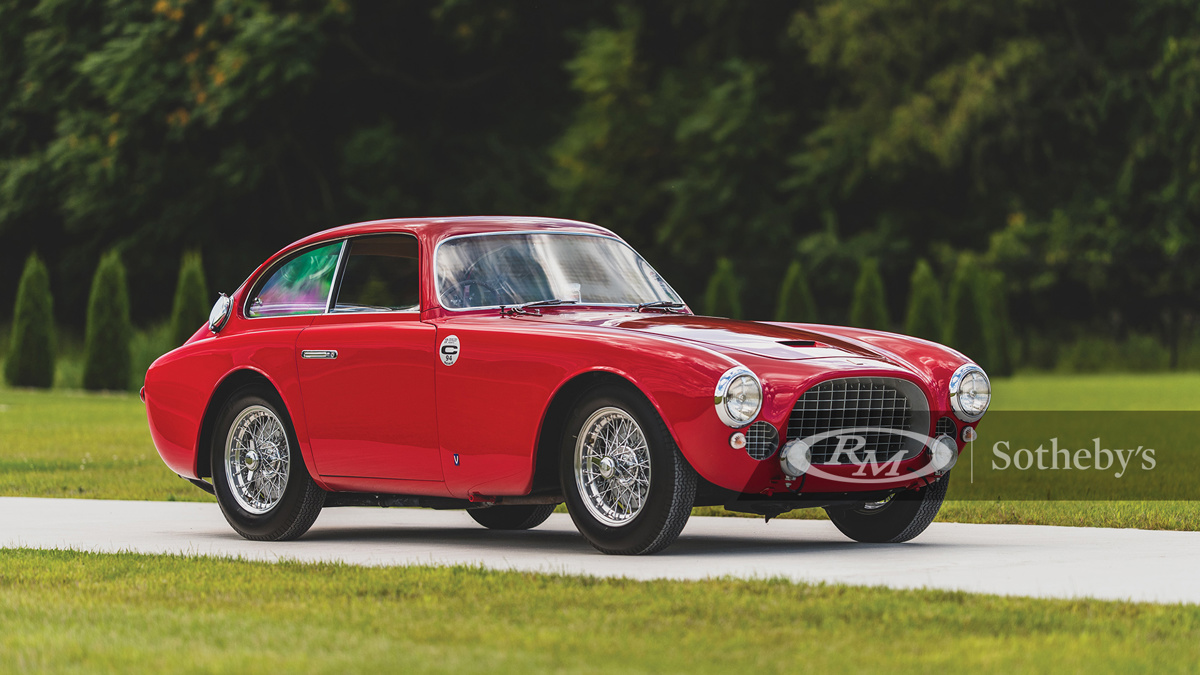 1952 Ferrari 225 S Berlinetta by Vignale
Estimate: $2,500,000 – $3,500,000
The fifth out of approximately 25 built
We mentioned veteran designer Giovanni Michelotti earlier—this handsome coupe from early in his career shows just how far back his catalogue goes, down to the foundation of sports car design post-Savonuzzi in the early 1950s. Michelotti took the classic, long-hood, cab-back proportions established by the Cisitalia 202 and pushed them to the extreme, making room for the 2.7-Liter Colombo V-12 engine under the hood. For many, in terms of proportions alone, the Vignale period represents Ferrari at its peak. Certainly, at this moment, styling was about no-frills formality, with all strength and aggression communicated by stance. Notice how the driver is seated just in front of the rear wheel, creating a driving experience difficult for today's manufacturers to match.
All the above information and photographs are from the RM Sotheby's Elkhart Collection Auction website.
Check out the digital catalogue here. To view lot listing, click here.
Note: –
The purpose of this webpage is to provide information on a Classic Car Auction and refers to material which is in the Public Domain. Carsceneinternational.com has no commercial relationship with the organiser or sponsors featured.
© carsceneinternational.com