Introduction
After my 'The interceptor Years' post, I thought that was the end of the story as far as I was concerned. 
I knew that there had been several attempts at resurrecting the Jensen name and cars but I dismissed the idea of writing about this post Jensen Motors Ltd. liquidation period (the Revivals) because I didn't consider these cars to be 'real' Jensens.
However, my continued research into Jensen's heritage has convinced me to change my mind. I now believe that these companies and the cars that they produced/produce, are a legitimate part of that heritage and worthy of a 'post'. So here it is. 
I must stress that the following is only an 'overview'. There have been and continues to be, an amazing, given Jensen's relatively small footprint in the automotive world, number of books and articles published which deal with the detail of the various phases of Jensen's history; not the least among them being those written by Richard Calver.
I hope these snippets encourage you to find out more by reading these books.
Jensen In Receivership
In 'The Interceptor Years' we left Jensen Motors in the hands of the receivers who eventually, in May 1976, gave up on the idea of trying to sell the company as a 'going concern' and had no alternative but to liquidate the assets.
Although sad, particularly for the remaining workforce, for the Jensen marque it certainly wasn't all bad news. From this 'crash' emerged not one but two potentially viable companies, one of which continues to thrive today albeit under different ownership and not using the Jensen name. More on that later.
The two companies, referred to above were Jensen Special Products (JSP) and Jensen Parts & Service.
Jensen Special Products
JSP was bought by employees, Alan Vincent and Ray Allsopp. Its assets comprised the building that housed the Jensen Motors development department and drawing office and all the associated equipment. But the greatest asset of all was the skills of the people employed in the D.O. and development department. The team employed in the latter were led by the former deputy chief engineer Brian Spicer, 
One of the biggest projects that JSP was involved with was the development of the Stonefield off-road vehicle to be built in Cumnock, Ayrshire, Scotland. 
As a result of this liaison Brian Spice left JSP to join Stonefield as head of engineering. This may have been because JSP was in the process of failing or because it had already failed or maybe it was because Stonefield just absorbed JSP. Stonefield was also doomed to fail even though most informed commentators thought that it was an inspired product. The illness and subsequent death of the company's founder, Jim McKelvie, played a significant part in that company's failure to make good the promise of its design. 
In 1984 Brian Spicer was with AC (Scotland) developing the 3000ME car. Another short-lived project. Sometimes the ball just doesn't run for you and nowhere is that truer than in the motor industry.
Stonefield 4 x4 Miltary Transport
Jensen Parts & Service
After the demise of Jensen Motors Ltd. Kjel Qvale and the former JM finance director (now Lord) Bob Edmiston formed a company called Britcar Holdings Ltd. The immediate purpose of this company was to manage the Jensen Parts & Service unit of the old company that had been hived off as a separate and viable company. From what I have read on the internet (not always a reliable source) there seems to be some confusion as to whether or not Britcar also had ownership of JSP. A number of sources say that it did. I am inclined to believe that Britcar did not own JSP at any stage. I base that conclusion on 1) Reading Alan Vincent's recollection of that event on the Jensen Museum website and 2) Viewing a video of an interview with Lord Edmiston, chairman of the IM Group, in which he says he and Qvale bought Jensen Parts and Service. making no mention of JSP.
Britcar also acquired the U.K. distribution rights to the Subaru range of cars and eventually the company's name was changed to International Motors with Bob Edmiston, as the majority shareholder.
A snippet from 'Motor Sport' September 1977
Jensen to Import Japanese Cars
"Another Japanese name joins the ranks of the imports to Britain, with the disclosure by Jensen Parts and Service Ltd. and Britcar Holdings that they are to import part of the Subaru range of cars.
The Subaru range is rather different technically to the usual run-of-the-mill Japanese cars s having flat-four, overhead camshaft engines, rack-and-pinion steering and all-independent suspension.
Robert Edmiston, Managing Director of Jensen Parts and Services Ltd. and Britcar Holdings and now of Subaru (UK) Ltd. also, reckons that the major demand will he for the firm's novel, indeed unique, 1,600 c.c., four-wheel-drive estate car, It under £4,000 a realistic alternative for those who would like, but can't afford, a Range-Rover.
Jensen Parts and Services new venture is to ensure the future of the Company, formed from the rubble of the car manufacturing company. Edmiston rightly points out that demand for Jensen spares and service would shrink with time: the Subaru interest will keep the 70 employees fully occupied into the future at West Bromwich.
Edmiston did not preclude the possibility of Jensen re-entering the motor manufacturing business in the future, an interesting thought."
From the start, it was more than a servicing and spare parts supply operation. The facilities and the skill sets of its employees enabled it to assemble brand new Interceptors from the parts that it had inherited from its former parent company.  It was also able to undertake fairly major rebuilds of customers' cars, from 541's to Interceptors. The Parts and Service division of Jensen Motors Ltd. had been undertaking this type of work for many years and had established a reputation for excellent work. This was a very good, profitable business which kept the Jensen name alive, providing an essential service to owners and fulfilling work for an enthusiastic workforce. Who could wish for more?  As Jensen Parts & Service became established Ian Orford the general manager was able to raise his head from the daily grindstone of making this division a success and assess exactly what he had inherited from the old JML.  Part of that realisation was that he had all the jigs and tools to assemble complete Interceptor bodies.  He, like so many others after him, had a burning ambition to see the Jensen brand re-established on the British, if not the World's, market for luxurious touring cars. In  January 2016 I came across a Youtube video of a tour of Jensen Cars that took place in 1988. You can find the link at the bottom of this page.
Jensen Cars Limited – Jensen Interceptor S4
First Jensen Interceptor S4 with Jensen Cars staff
Photo courtesy of John Baker a director of Jensen Cars Limited at the time. 
To realise this ambition Ian's and his fellow directors' first step, was to buy Jensen Parts & Service from International Motors and change its name to Jensen Cars Limited. This was achieved in 1984. Eventually, the stock of Interceptor III parts plus components sourced from suppliers were made into complete, marketable cars. 
It was launched as the Jensen Interceptor Series IV (S4). Not to be confused with the 
1974 -76 Interceptor III Series IV!
The biggest difference between this model and its predecessors was the 5.9Ltr., U.S. emission compliant, Chrysler engine. Alas, Ian was to find that enthusiasm and ambition were not powerful enough attributes to ensure the success of a very expensive, somewhat outdated but still attractive car, in a niche market. Only around eleven cars were sold.  The Service and Parts functions were still profitable in their own right but did not generate sufficient income to support the car manufacturing enterprise. By 1992 Ian and his team had to seek help from outside sources. This appeared to arrive in the form of a company called Unicon Holdings, an engineering consultancy based in Stockport, run by Mr. Hugh Wainright.  Unicon bought Jensen Cars Limited in 1989 and once again had ambitious plans to re-launch one of the U.K.'s great Grand Touring cars. Once again that ambition was misplaced. By 1992 the receivers had to be called in, and another Jensen enthusiast's dream was dashed. A potential investor, Martin Robey of Nuneaton, whose company had been a supplier of pressings to Jensen Cars Limited, was interested in buying the company as a going concern but could not agree on a price with, first the management and then the receivers. The latter thought that they had received a better offer from another party but at the eleventh hour that failed to materialise.  In 1993 it looked as if the assets would have to be auctioned but Martin Robey made an offer to the receivers to buy the whole lot.
Martin Robey buys the Jensen remnants
The receivers accepted Robey's offer and the Nuneaton concern became owners of everything that the Jensen Company owned. This included the goodwill of the business, the design rights, copyrights, tooling, memorabilia and historical data. In the long run, what proved to be the most valuable was the stock of parts and the jigs and tools. Apparently, the Jensen name was not included, that was retained by the Wainwright family (see below). The old heart of Jensen Motors has been in Nuneaton ever since but it doesn't seem to get much publicity. The spirit of Jensen appears from time to time, there are many who hear its call and try to resurrect the marque. No one has got it quite right yet. My personal view is that they never will now and the time has passed. That doesn't mean that Jensen and its cars are dead. Far from it, few marques in the whole world have such an enthusiastic, knowledgeable and committed set of followers and owners. They and their successors will keep Jensen in the eye of car enthusiasts everywhere, well into the future.  But don't go yet, if this story of the 'Jensen Revivals' is to be told properly then there are other stories which must be covered –
Jensen S – V8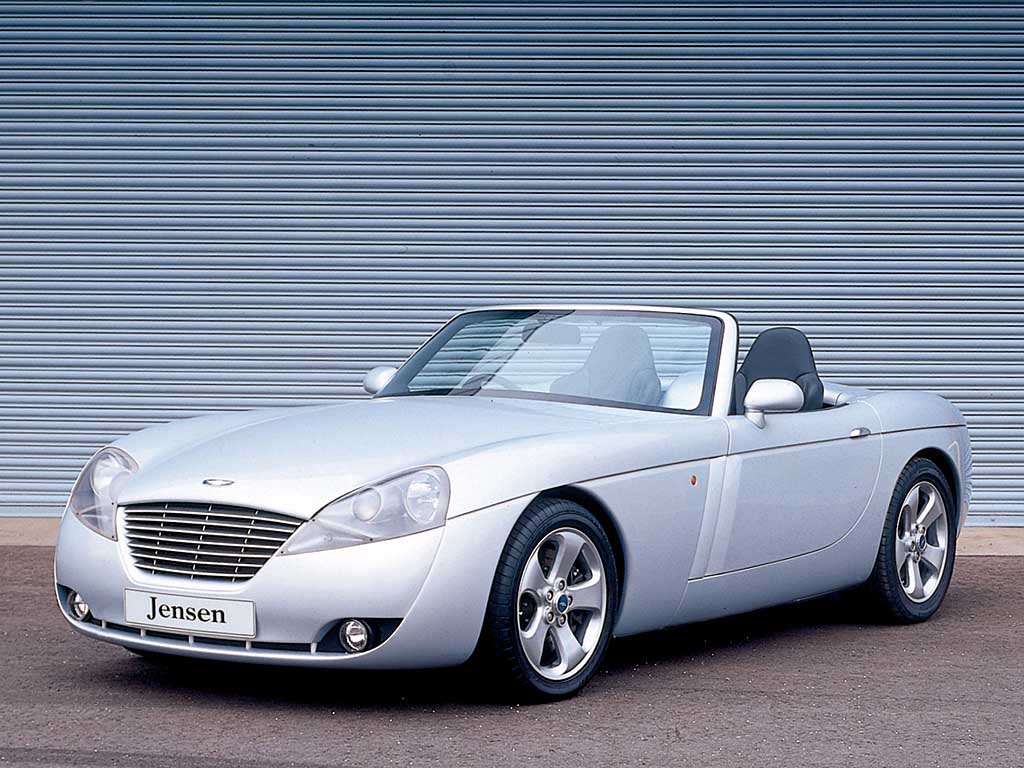 In 1996-97 the owners of a company called Creative Manufacturing Systems, based in Redditch, near Birmingham, became interested in building a medium range sports car; something similar to how an Austin Healey 3000 might have evolved into had it continued in production. They had conceived this idea by being involved with creating the tooling for one of the Chrysler Corporation's innovative sports cars of the late 1990s.
Two stylists from Jaguar, Howard Guy and Gary Doy, were contacted and asked to present some sketches of what such a car might look like. One of Howard's and Gary's designs was agreed upon and now it was time to turn the dream into reality.
One of the first things to be decided was what to call it. Because one of the ideas behind the concept was to build a modern day Austin Healey 3000 it made sense to see if the Healey family would be willing to let the famous and well respected Healey name be used for this car. Negotiations did get to an advanced stage. In fact, with a little imagination, you can see the resemblance of the S-V8's grille to the one that the original Healey 100 sported.
However, negotiations with the Healey family did not proceed and the car still needed a name. For reasons I am not privy to, contact was made with the Wainwright family (see Jensen Cars Limited/ Unicon Holdings above) for the use (purchase?) of the Jensen name. It had already been decided that this car would have a V8 engine so having acquired the marque name determining the model name, 
S-V8,
 was easy. 
The engine that was eventually procured was Ford's 4.6 Ltr. V8 as fitted to the then current Mustang model.
So the styling, naming and engine source were all determined, now where to build this exciting car? Well, Merseyside, with its Halewood and Ellesmere Port car plants making it the new centre of car production in the U.K. and encouraged by successive British Governments together with Liverpool City Council, made that area the obvious choice. Thus a new factory was built in Speke.
As I have said before, this isn't a blow by blow account of everything that happened to all the projects carrying the Jensen brand name, so let's race to the finish line; in what, by now, had become the norm for Jensen, the S-V8 project did not end with a flourish of the victor's chequered flag but with the ignominy of receivership! 
Jensen Motors went into administration in July 2002 after only about twenty S-V8s had been completed.
I wonder what happened to Messrs. Bowyer and  Rauer, the owners of Creative Manufacturing Systems? Certainly, they would have been many tens of thousands of pounds richer had they not followed their dream. 
Just before we leave the Jensen S – V8, let's torment ourselves a little more by looking at what might have been – the recreation of the 
C-V8 model designation –
SV Automotive, Oselli Cars and ReJen
As we have seen before with the Jensen marque, as well as in life in general, someone's failure and misery can lead to other's success and joy. So it was in the case of the demise of Jensen Motors for the second time, or, in reality, the third time, if you count Jensen Cars Limited.  Around eighteen partly completed S – V8 cars and components were bought from the administrators by a company called S V Automotive of Carterton, Oxfordshire. They completed a further 10 cars which were sold via the respected Classic Car dealer Oselli Cars Ltd. The remainder of the unfinished cars and components were bought by ReJen, a Jensen Parts and Service specialist based in Owlesbury near Winchester, Hampshire, in 2005. Rejen is now considered to be the Jensen S-V8 specialist, having completed the remaining partly assembled 'Speke' cars and created a few others from the spare parts that they acquired. They are able to service, improve and supply parts for this very rare motor car.
There are many still carrying brightly burning torches for Jensen –
With the demise of the Jensen Parts & Service Company, in 1992, there arose an opportunity for other enterprises to both service, repair and in some cases, rebuild the many hundreds of Jensens of all types but mainly the Carrozzeria Touring Superleggera designed Interceptor.
Some excellent companies took up the challenge. Many of them had already established a good reputation even before Jensen Parts & Service left the scene. The following companies are well known to Jensen owners and I am only referring to them as an acknowledgement and a courtesy. I have already mentioned the first two in the main text.-
Updated March 2021
Long Established
Martin Robey, whose main role is that of a supplier of spare parts, particularly body panels. – Nuneaton, Warwickshire

Rejen. – Winchester, Hampshire

Cropredy Bridge Cars. – Cropredy, Oxfordshire **

Richard Appleyard Motors – Ilkeston, Derbyshire  ('jensencars' url Interesting!)

C & H Autos – Ongar, Essex
Established in the last 10 -15 years. When this section was first established, in 2014, there were four names mentioned. Two of them were connected to Cropredy. The only one left, in its own right is JIA. I have left the defunct companies in place for historical reasons.
V Eight Ltd. (A Jensen Interceptor, ground up, rebuild with significant engine/transmission and rear suspension changes)This company had escaped my original research, maybe because it didn't last very long. 29/08/14 This

company was founded by Mr. Tim Hearley, a former M.D. of Aston Martin and Mr. Alan Garnett, a former Executive Chairman of Morgan Cars, in 2006. 

In 2007 it bought Cropredy Bridge Garage with the aim of utilising that company's reputation and expertise, as Jensen rebuild specialists, to re-build Jensen Interceptors and sell them as the Interceptor 'S' model.

The plan was to buy fifty Interceptors from their then current owners, completely strip them down, repaint and trim the bodies and replace any worn body/chassis and mechanical components.

In addition, the cars were to be equipped with a completely redesigned, independent, rear suspension and a GM LS2 6.0Ltr. engine mated to a five speed Automatic transmission.

The price of this Interceptor 'S' was £74,960, at a time when a 'concourse' condition Interceptor could be had for around £30,000! Almost needless to say, this venture failed.

A small number of unfinished cars were taken over by JAI (see below) who oversaw their completion and delivery to customers.
Gama Cars – Cropredy, Oxfordshire – Owners of Cropredy Bridge Garage since 2011 and builders of the Interceptor 'R' Body/chassis for JIA below. **

BAVREZ – Jensen Motors Limited. –

Banbury, Oxfordshire.

Jensen International Automotive – Thame, Oxfordshire. This is a specialist company, originally funded by Sir Charles Dunstone, of Carphone Warehouse fame, that builds what they believe a 21st Century Jensen Interceptor should be like. Basically, they take a donor car and rebuild it using, where appropriate, modern materials. The most interesting feature of this model's specification is the GM sourced engine – 6.2 Ltr. V8 429bhp (LS3 – normally aspirated) or 550 bhp (LSA – supercharged). It is designated the 'R' model., prices start at £149,500.

The latest Phoenix – February 2015
 On 25th February 2015, a company calling itself Jensen Group released a very professional press statement, with accompanying photographs, announcing its intention of ultimately producing a brand new (rather than using donor cars) Interceptor. This car, with a probable launch date in 2017 will be called 'Interceptor 2'.
In the interim, a bridge car will be produced, in very limited numbers and will carry the name 'Jensen GT'. Photos of the clay buck are shown below. This car will be developed in conjunction with JIA referred to above.
The press release appears to have been very successful, being carried by most national and local newspapers together with motoring magazines and websites.
Nothing more was heard of it!!!



Another that proved just a 'pipe dream' –
In 2011 a company called CPP (Coventry Prototype Panels) issued a press release, with various stylists sketches, announcing its intention to build a new Jensen Interceptor in Browns Lane, Coventry, in 2014. 
This same company 
was involved in the abortive attempt to build the Swedish/Dutch Spyker supercar in Coventry in 2012. That ended in CCP being wound up in 2013. It just goes to show that any talented artist can use his imagination to illustrate a dream –
** Cropredy Bridge Cars Ltd.
The reason why I have just undertaken an update of this post is that I read about Leah Guillaird – Watts in a recent press article. I read that Leah and her husband Matt are the current owners of Cropredy Bridge Cars Ltd. Matt was also involved with Gama Cars referred to above. Cropredy Bridge Garage, as it was then, started selling new Jensen cars in 1972. It has specialised in the marque ever since. When Jensen ceased trading, in 1976, Cropredy had already established a reputation as the "go-to" place if you wanted your Jensen expertly serviced without travelling to West Bromwich. As time went on and cars needed more than just regular servicing, Cropredy, under the capable leadership of Bob Cherry from the mid 1990s, started to refurbish cars and soon gained a good reputation for complete rebuilds. From around 2008 until 2012 the company went through a turbulent time with a number of different investors and managers getting involved. However, since Matt Watts ownership, with Bob Cherry initially acting as a consultant, the company, now called Cropredy Bridge Cars Ltd. has stabilised. It is clearly focused on providing an excellent service to its Jensen customers. Learning from its experience of working on the JIA 'R' Interceptor it is offering its own "zero miles", completely rebuilt and re-specified Interceptor labelled the 'CB'. Here it is –

For more Jensen posts, covering the history of the company, click on this link –
Links –
Jensen focused organisations
Jensens' On Tour –
Jensen Owners Club
Interceptor Mk.1 register
Jensen Restoration and Spare Parts Companies
Jensen International Automotive (JIA)
Rejen
Martin Robey